Utilising the same concept as a tree's own root system, Surefoot creates a wide foundation under the soil to give a firm foundation and large load capacity for the installation of event shades and outdoor shade sails of almost any type.
The Benefits of a Revolutionary System
When considering this product for your event shade or outdoor shade sail installation, consider the long list of benefits Surefoot has over traditional installation procedures.
In addition to being a secure and cost-effective solution, Surefoot offers easy installation in almost any kind of soil. There is no need for digging, excavating or cementing your poles in the ground, yet Surefoot's unique design provides the strength to safely and securely hold any size pole in place.
This means your event shades and outdoor shade sails can withstand strong winds, heavy rains and large bending moment loads, making it ideal for any application.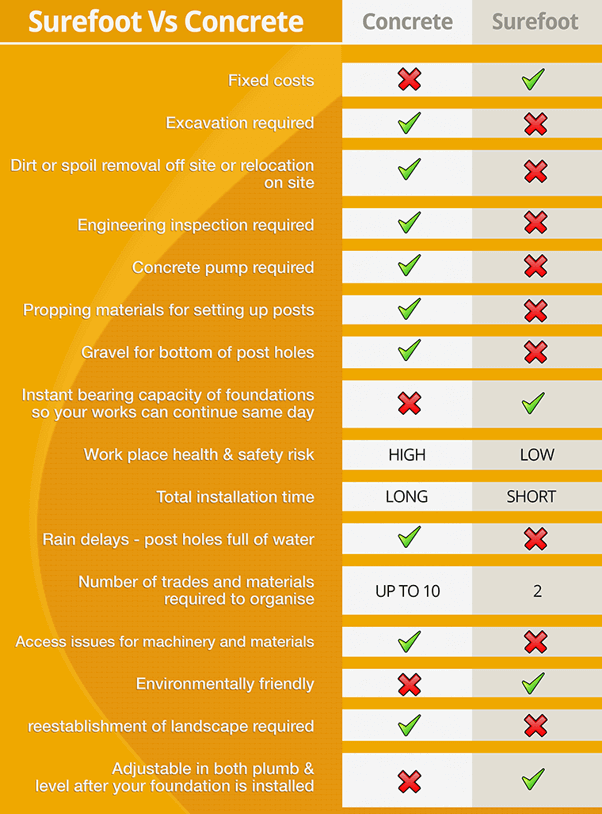 Who – Thanks to quick and easy self-installation, you save money on hiring outside contractors and heavy equipment. No engineering inspections are required, so you can install your event shade or outdoor shade sail and enjoy the fruits of your labour in as little as 10 minutes.
What – Suitable for posts and structures of any size and type, this product gives you maximum control over the design of your space. Surefoot is also adjustable in both plumb and level, meaning your event shade or outdoor shade sail can be adjusted to meet any requirement.
When – Boasting installation time as little as 10 minutes, this product offers instant bearing capacity, no waiting for concrete to set and the ability to enjoy your new awning almost immediately. No other installation procedure is as quick, as easy or as strong as this one.
Where – Because it is suitable in all wind categories and soil types, you are no longer restricted to where you can install your awning. It works well in hard-to-access areas, slopes, and remote sites. Surefoot also avoids damage to established gardens or yards because no heavy machinery is required.
Why – With all of the above benefits, there is no reason why you shouldn't choose Surefoot for the installation of your event shade or outdoor shade sail.
Unique Applications
Thanks to its versatility and ability to be installed in any type of penetrable soil, Surefoot has been successfully utilised in a wide range of applications in addition to the common pole installation for event shades and outdoor shade sails.
Solar panels
Carports and awnings
Art installations
Agricultural storage
Lighting
Signage
Park equipment
Decking and boardwalks
Bus shelters
Fencing