Transform Commercial Space and Design
Looking For
Commercial Shade Sail?
Are you a business looking for a cost-effective way to expand your outdoor space? From commercial carports to shopping center courtyards, cafes, and car washes, Melbourne's industry-leading umbrella shade, outdoor sail, and alfresco shade supplier, Future Shade, will bring your architectural vision to life.
From major construction and design projects to niche structural shading solutions, we partner with you to optimise your outdoor space with durable weatherproof PVC and PFTE fabrics and offer a selection of shading structures including: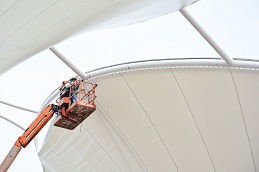 Waterproof shade sails
Alfresco coverings
Cantaports
Cantilever carports are ideal for aviation and defense projects
Outdoor umbrellas with a 360-degree swing
COLA (covered outdoor learning area) shades
Protective sails for all commercial applications
Future Shade offers 3D CAD technology combined with customised manufacturing capabilities to meet the commercial sectors evolving needs. With each and every shading solution installed by our qualified professionals, you can be assured your project and investment is in safe hands.
Custom Structures for Every Retail and Commercial Space
Protecting your customers and clients from the harsh Australian climate is vital in ensuring the success of your business, when you partner with Future Shade no commercial project is too big or too small.
Our team of specialists collaborates with architects and building surveyors to create detailed CAD drawings so you can visualise your new commercial outdoor sails structure before construction. Our commercial projects have included shading solutions for:
Commercial car parks
Schools and childcare centres
Public and private swimming facilities
Common areas in Shopping Centres
Hotel alfresco dining areas
Offices
Airports
Resort sails structures
Pedestrian walkways
Mine camps and mining recreational and living areas
Covered outdoor learning areas (COLA's) for schools and pre-schools
Construction sites
Car washes